yikob@adana.gov.tr
The list below contains all domains related to the email address yikob@adana.gov.tr. The listed domains are showing the mentioned email address in their whois records. We have yikob@adana.gov.tr listing since February, 2018.
This email address is associated
with 2 registrants:
Name

Adana Valili?i Yat?r?m ?zleme ve Koordinasyon Ba?kanl???
Phone number

+ 90-322-4580465-

Address

D??eme Mahallesi 60074 Sok. No:1 Seyhan Yeni Valilik Binas? Yan? Adana, T?rkiye
Name

Adana 112 Acil ?a?r? Merkezi M?d?rl???
Phone number

+ 90-322-4580465-

Address

Atakent Mahallesi Fatih Caddesi No:10/1 Y?re?ir/ADANA Adana, T?rkiye
About adana.gov.tr
a host domain for yikob@adana.gov.tr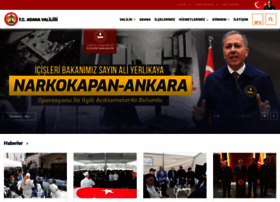 Child safety:Excellent
Trust:Good
Name

Adana Valili?i Yat?r?m ?zleme ve Koordinasyon Ba?kanl???

Phone number

+ 90-322-4580465-

Address

D??eme Mahallesi 60074 Sok. No:1 Seyhan Yeni Valilik Binas? Yan? Adana, T?rkiye
Close map
Name

Adana 112 Acil ?a?r? Merkezi M?d?rl???

Phone number

+ 90-322-4580465-

Address

Atakent Mahallesi Fatih Caddesi No:10/1 Y?re?ir/ADANA Adana, T?rkiye
Close map