domaine@eolas.fr
The list below contains all domains related to the email address domaine@eolas.fr. The listed domains are showing the mentioned email address in their whois records. We have domaine@eolas.fr listing since April, 2011.
This email address is associated
with 9 registrants:
About eolas.fr
a host domain for domaine@eolas.fr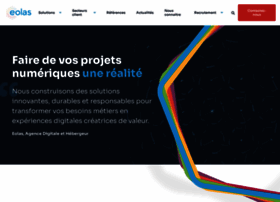 Hébergeur, concepteur/développeur d'applications, web marketeurs...Leader en Rhône-Alpes, notre agence web Eolas Grenoble, met tout son savoir-faire à votre service pour votre stratégie digitale !
Company

Conseil départemental de la Seine-Saint-Denis

Phone number

+33.143939758

Address

DEPARTEMENT DE LA SEINE SAINT DENIS hotel du Departement 93006 Bobigny FR
Close map
Company

DEPARTEMENT DE LA LOIRE

Phone number

+33.477484123

Address

2, rue Charles de Gaulle 42022 Saint Etienne Cedex FR
Close map
Company

AGENCE NATIONALE DE L'HABITAT

Phone number

+33 1 44 77 39 39

Address

8, avenue de l'Opera 75001 Paris FR
Close map
Company

LA BOITE A OUTILS

Phone number

+33 4 76 85 78 63

Address

2, rue Raymond Pitet 38100 Grenoble FR
Close map
Company

HONDA MOTOR EUROPE LTD SUCCURSALE FRANCE

Phone number

+33 1 60 37 32 37

Address

parc d'Activites Pariest - B.P. 46 77312 Marne la Vallee FR
Close map
Company

GROUPEMENT D'ENTREPRISES POUR LA DISTRIBUTION DE MATERIAUX

Phone number

+33 1 47 58 09 31

Address

24, rue Chaptal 92300 Levallois Perret FR
Close map
Company

COMMUNE DE GRENOBLE

Phone number

+33 4 76 23 64 89

Address

11, boulevard Jean Pain 38000 Grenoble FR
Close map
Company

DEPARTEMENT DE L AIN

Phone number

+33 4 74 32 32 52

Address

45, avenue Alsace Lorraine 01000 Bourg en Bresse FR
Close map
Company

Agence de la Biomedecine

Phone number

+33.155936550

Address

1, avenue du Stade de France 93210 Saint Denis FR
Close map