ua@nic.ua
The list below contains all domains related to the email address ua@nic.ua. The listed domains are showing the mentioned email address in their whois records. We have ua@nic.ua listing since May, 2012.
This email address is associated
with 10 registrants:
About nic.ua
a host domain for ua@nic.ua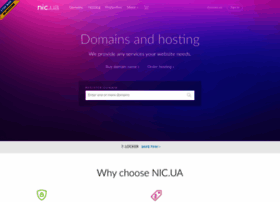 Domain registration. The largest domain registrar in Ukraine. Registration of Ukrainian and international domains right now! ☎ +380 44 593-32-22.
Child safety:Excellent
Trust:Excellent
Name

ПП "ВИДАВНИЧИЙ ДІМ "ЧАС ПІК"

Company

ПП "ВИДАВНИЧИЙ ДІМ "ЧАС ПІК"

Phone number

+380.445933510

Address

UA вул. Свердлова буд. 360 к. 22 Луганська область М. ЛИСИЧАНСЬК 93100
Close map
Name

ТОВ "Редакція газети "Панорама"

Company

ТОВ "Редакція газети "Панорама"

Phone number

+380.445933222

Address

UA пл. Миру 29/3 Закарпатська обл. М. МУКАЧЕВЕ 89600
Close map
Name

Медиковер Холдингс Н.В.

Company

Медиковер Холдингс Н.В.

Phone number

+380.445933510

Address

UA AN Питермаай 15 КЮРАСАО 4905
Close map
Name

НВПП "ІНТЕРУКРАЇНА-софт"

Company

НВПП "ІНТЕРУКРАЇНА-софт"

Phone number

+380.445933510

Address

UA просп. Визволителів 1 КИЇВ 01019
Close map
Name

Політична партія "Партія регіонів"

Company

Політична партія "Партія регіонів"

Phone number

+380.445933510

Address

UA вул. Кудрявська 3/5 М. КИЇВ 04053
Close map
Name

ПНВП Електромир

Company

ПНВП Електромир

Phone number

+380.445933510

Address

UA Енгельса 21 5 Донецька МАКІЇВКА 86154
Close map
Name

ТОВ ЮСТІКОН

Company

ТОВ ЮСТІКОН

Phone number

+380.445933510

Address

UA вул. Володимирська 7 1 КИЇВ 01025
Close map
Name

ООО "Супротек"

Company

ООО "Супротек"

Phone number

+380.445933510

Address

UA просп. Александра Матросова 19 ДОНЕЦК 83096
Close map
Name

ООО "О2"

Company

ООО "О2"

Phone number

+380.445933510

Address

RU Ул. Маршала Баграмяна д.4 МОСКВА 109559
Close map
Name

ТОВ "ТЕНТИ КАТРАН"

Company

ТОВ "ТЕНТИ КАТРАН"

Phone number

+380.445933225

Address

UA Якуба Коласа 29 10 КИЇВ 03146
Close map