tanitim@turanmuhendislik.com.tr
The list below contains all domains related to the email address tanitim@turanmuhendislik.com.tr. The listed domains are showing the mentioned email address in their whois records. We have tanitim@turanmuhendislik.com.tr listing since July, 2018.
This email address is associated
with 1 registrants:
Name

TURAN M?HEND?SL?K VE ELEKTR?K SANAY? T?CARET ANON?M ??RKET?

Company

?izgi Telekom?nikasyon A.?.
Phone number

+ 90-212-2131213-

Address

G?lbahar Mah. Elif Sk. Balkan Cevahir ?? Merkezi No:4 K:3 D:3 ?i?li ?stanbul,34390 T?rkiye Ok?umusa cd. Menev?e i? han? No:54/90 Karak?y ?stanbul, T?rkiye ** Registrar:
About turanmuhendislik.com.tr
a host domain for tanitim@turanmuhendislik.com.tr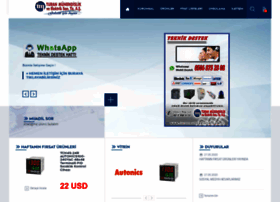 Nitelikli ve dinamik kadromuzla, gelişen teknolojiden her daim faydalanarak, kaliteli, hızlı, güvenilir ve sürekli hizmetler sunmak. Şirketimizin maddi ve manevi varlıklarımızı büyüterek, müşterilerine sunmuş olduğu etkin çözüm ortaklığı ile markalaşma...
Name

TURAN M?HEND?SL?K VE ELEKTR?K SANAY? T?CARET ANON?M ??RKET?

Company

?izgi Telekom?nikasyon A.?.

Phone number

+ 90-212-2131213-

Address

G?lbahar Mah. Elif Sk. Balkan Cevahir ?? Merkezi No:4 K:3 D:3 ?i?li ?stanbul,34390 T?rkiye Ok?umusa cd. Menev?e i? han? No:54/90 Karak?y ?stanbul, T?rkiye ** Registrar:
Close map