info@freeparking.co.nz
The list below contains all domains related to the email address info@freeparking.co.nz. The listed domains are showing the mentioned email address in their whois records. We have info@freeparking.co.nz listing since April, 2011.
This email address is associated
with 10 registrants:
About freeparking.co.nz
a host domain for info@freeparking.co.nz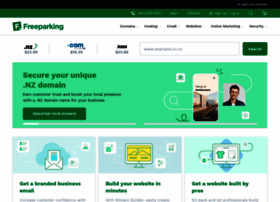 For over 20 years Freeparking has been a leading domain name & web hosting company in NZ. Our data centres are located in Auckland and Christchurch. Learn more.
Name

REDACTED FOR PRIVACY

Company

Movio

Phone number

REDACTED FOR PRIVACY

Address

REDACTED FOR PRIVACY REDACTED FOR PRIVACY REDACTED FOR PRIVACY REDACTED FOR PRIVACY REDACTED FOR PRIVACY NZ
Close map
Name

Umbrellar Limited t/a Freeparking

Phone number

+64 6 7572881

Address

Level 2, 2 Devon Street East New Plymouth 4310 NZ (NEW ZEALAND)
Close map
Name

NZ Health Link Limited

Phone number

+64 9 6300828

Address

Go3, Zone 23, 23 Edwin Street Mt Eden Auckland 1024 NZ (NEW ZEALAND)
Close map
Name

Tarawera Publishing Limited

Phone number

+64 7 3491920

Address

PO Box 2011 Rotorua 3215 NZ (NEW ZEALAND)
Close map
Name

Pharmacy Direct Ltd

Phone number

+64 21 720892

Address

282 Glenfield Road Glenfield Auckland Auckland 0629 NZ (NEW ZEALAND)
Close map
Name

New Zealand Gold Merchants Ltd

Phone number

+64 1 6340529

Address

P.O. Box 12-057 Penrose Auckland 1642 NZ (NEW ZEALAND)
Close map
Name

Graeme Andrew

Company

GMH Ltd

Phone number

+61.732896956

Address

PO BOX 669 Samford Brisbane Qld 4520 AU
Close map
Name

Fisher & Paykel Finance Ltd

Phone number

+64 9 5258550

Address

Private Bag 94013 South Auckland Mail Centre Auckland 2241 NZ (NEW ZEALAND)
Close map