info@ekmasan.com.tr
The list below contains all domains related to the email address info@ekmasan.com.tr. The listed domains are showing the mentioned email address in their whois records. We have info@ekmasan.com.tr listing since June, 2014.
This email address is associated
with 1 registrants:
Name

Ekmasan Is ve Makina San. Tic. A..

Company

ODT GELTRME VAKFI BLG TEKNOLOJLER SAN. VE TC. A..
Phone number

+ 90-312-9881106-

Address

NVERSTELER MAH. HSAN DORAMACI BLV. ARGE VE ETM MERKEZ NO:13 ANKAYA Ankara,06800 Trkiye Ahmet Yesevi Mah.Sanayi Cad.No:451 Geit 16140 Bursa, Trkiye ** Registrar:
About ekmasan.com.tr
a host domain for info@ekmasan.com.tr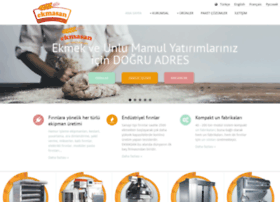 fırın, un fabrikaları, un fabrikası, tünel fırın, ekmek, un, hamur, ekmek makinesi, ekmek makinası, makina, makine, hamur işleme makinaları, un değirmeni, değirmen, mikser, taş tabanlı fırın, taş fırın
Name

Ekmasan Is ve Makina San. Tic. A..

Company

ODT GELTRME VAKFI BLG TEKNOLOJLER SAN. VE TC. A..

Phone number

+ 90-312-9881106-

Address

NVERSTELER MAH. HSAN DORAMACI BLV. ARGE VE ETM MERKEZ NO:13 ANKAYA Ankara,06800 Trkiye Ahmet Yesevi Mah.Sanayi Cad.No:451 Geit 16140 Bursa, Trkiye ** Registrar:
Close map