haslanoglu@kayalarkimya.com.tr
The list below contains all domains related to the email address haslanoglu@kayalarkimya.com.tr. The listed domains are showing the mentioned email address in their whois records. We have haslanoglu@kayalarkimya.com.tr listing since February, 2018.
This email address is associated
with 1 registrants:
Name

Canicas Tekstil ve Konfeksiyon Sanayi Ticaret A.?.

Company

ODT? GEL??T?RME VAKFI B?LG? TEKNOLOJ?LER? SAN. VE T?C. A.?.
Phone number

+ 90-312-9881106-

Address

?N?VERS?TELER MAH. ?HSAN DO?RAMACI BLV. ARGE VE E??T?M MERKEZ? NO:13 ?ANKAYA Ankara,06800 T?rkiye Erbaa Organize Sanayi Erek Mah. 5.Km. Erbaa Tokat, T?rkiye ** Registrar:
About kayalarkimya.com.tr
a host domain for haslanoglu@kayalarkimya.com.tr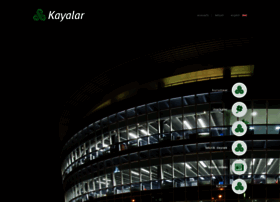 Kayalar Kimya, %23'lük pazar payı, 500 farklı ürün kapasitesi ile mobilya boya ve verniklerinde Türkiye'de sektör lideri, inşaat boyalarında ise pazarın en iyilerindendir.
Name

Canicas Tekstil ve Konfeksiyon Sanayi Ticaret A.?.

Company

ODT? GEL??T?RME VAKFI B?LG? TEKNOLOJ?LER? SAN. VE T?C. A.?.

Phone number

+ 90-312-9881106-

Address

?N?VERS?TELER MAH. ?HSAN DO?RAMACI BLV. ARGE VE E??T?M MERKEZ? NO:13 ?ANKAYA Ankara,06800 T?rkiye Erbaa Organize Sanayi Erek Mah. 5.Km. Erbaa Tokat, T?rkiye ** Registrar:
Close map