domain@milliyet.com.tr
The list below contains all domains related to the email address domain@milliyet.com.tr. The listed domains are showing the mentioned email address in their whois records. We have domain@milliyet.com.tr listing since May, 2011.
This email address is associated
with 7 registrants:
About milliyet.com.tr
a host domain for domain@milliyet.com.tr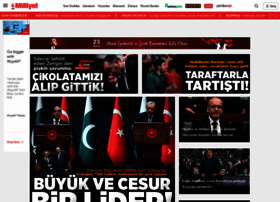 Haberler, son dakika haberleri, yerel ve dünyadan en güncel gelişmeler, magazin, ekonomi, spor, gündem ve tüm gazete haberleri Türkiye'nin Açılış Sayfası Milliyet'te!
Child safety:Good
Trust:Excellent
Name

Milliyet Gazetecilik ve Yaynclk Anonim irketi

Company

ODT GELTRME VAKFI BLG TEKNOLOJLER SAN. VE TC. A..

Phone number

+ 90-312-9881106-

Address

NVERSTELER MAH. HSAN DORAMACI BLV. ARGE VE ETM MERKEZ NO:13 ANKAYA Ankara,06800 Trkiye zzetpaa Mah.Abide-i Hrriyet Cad.No:162 alayan ili stanbul, Trkiye ** Registrar:
Close map
Name

Cagri Gumus

Company

Milliyet Gazetecilik ve Yayincilik A.S.

Phone number

Non-Public Data

Address

Izzetpasa Mahallesi, Abide-i Hurriyet Caddesi No:162 , Sisli Istanbul NA 34387 TR
Close map
Name

Avni Suleymanoglu

Company

Milliyet Gazetecilik ve Yayincilik A.S.

Phone number

Non-Public Data

Address

Demiroren Han No: 2 Azapkapi , Beyoglu Istanbul NA 34420 TR
Close map
Name

Avni Suleymanoglu

Company

Milliyet Gazetecilik ve Yay?nc?l?k A.?.

Phone number

Non-Public Data

Address

Demiroren Han No: 2 Azapkapi , Beyoglu Istanbul NA 34420 TR
Close map
Name

Avni Suleymanoglu

Company

DK Gazetecilik ve Yayincilik A.S.

Phone number

Non-Public Data

Address

NA TR Demiroren Han No: 2 Azapkapi , Beyoglu Istanbul 34420
Close map