bilgi@admelektrik.com.tr
The list below contains all domains related to the email address bilgi@admelektrik.com.tr. The listed domains are showing the mentioned email address in their whois records. We have bilgi@admelektrik.com.tr listing since March, 2017.
This email address is associated
with 1 registrants:
Name

ADM Elektrik Da??t?m A.?.

Company

Turkticaret.Net Yaz?l?m Hizmetleri Sanayi Ticaret A.?.
Phone number

+ 90-224-2248640

Address

Uludag Universitesi Gorukle Kampusu Ulutek Tek. Bol. Arge Binasi Yani Ek Bina Nilufer Bursa, T?rkiye Adalet Mah. Hasan G?n?ll? Bul. No:17/A ADM Genel M?d?rl?k Binas? Merkezefendi Denizli Denizli, T?rkiye ** Registrar:
About admelektrik.com.tr
a host domain for bilgi@admelektrik.com.tr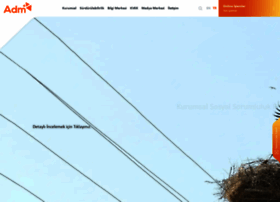 ADM, Elektrik Dağıtım, Planlı Kesinti, Lisanssız Elektrik Üretimi, Leylekler Ölmesin, Elektrik Kesintisi, Elektrik Arızası
Name

ADM Elektrik Da??t?m A.?.

Company

Turkticaret.Net Yaz?l?m Hizmetleri Sanayi Ticaret A.?.

Phone number

+ 90-224-2248640

Address

Uludag Universitesi Gorukle Kampusu Ulutek Tek. Bol. Arge Binasi Yani Ek Bina Nilufer Bursa, T?rkiye Adalet Mah. Hasan G?n?ll? Bul. No:17/A ADM Genel M?d?rl?k Binas? Merkezefendi Denizli Denizli, T?rkiye ** Registrar:
Close map