bamer@bamer.com.tr
The list below contains all domains related to the email address bamer@bamer.com.tr. The listed domains are showing the mentioned email address in their whois records. We have bamer@bamer.com.tr listing since June, 2014.
This email address is associated
with 1 registrants:
Name

Bamer Danmanlk zel Eitim Temizlik Pazarlama Sanayi Tic. Ltd. ti.

Company

NETDIREKT BILISIM DANISMANLIK ILETISIM HIZMETLERI SAN. VE TIC. A.S.
Phone number

+ 90-850-2008899-

Address

IIKLAR MAH. AYDINLAR CAD. NO 44 zmir,35040 Trkiye kran Kurdakul Sok. No:14/13-14 Karyaka 35582 zmir, Trkiye ** Registrar:
About bamer.com.tr
a host domain for bamer@bamer.com.tr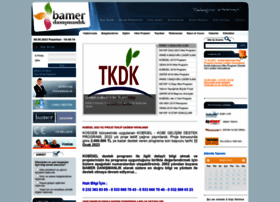 BAMER DANIŞMANLIK - HİBE PROJESİ, IPARD 2, KKYDP, KIRSAL KALKINMA, HİBE DESTEKLERİ, KTZ, KÜRESEL TEDARİK ZİNCİRİ, KALKINMA AJANSI, YATIRIM TEŞVİK BELGESİ, TURİZM TEŞVİK BELGESİ, ISO 9001, ISO BELGESİ, ISO 22000, OHSAS 18001, ISO 45001, CE BELGESİ, TKDK...
Name

Bamer Danmanlk zel Eitim Temizlik Pazarlama Sanayi Tic. Ltd. ti.

Company

NETDIREKT BILISIM DANISMANLIK ILETISIM HIZMETLERI SAN. VE TIC. A.S.

Phone number

+ 90-850-2008899-

Address

IIKLAR MAH. AYDINLAR CAD. NO 44 zmir,35040 Trkiye kran Kurdakul Sok. No:14/13-14 Karyaka 35582 zmir, Trkiye ** Registrar:
Close map