HQI0YM4P0D2R7SBG@privacyhero.company
The list below contains all domains related to the email address HQI0YM4P0D2R7SBG@privacyhero.company. The listed domains are showing the mentioned email address in their whois records. We have HQI0YM4P0D2R7SBG@privacyhero.company listing since January, 2020.
This email address is associated
with 3 registrants:
Name

Leons Furniture Ltd.
Phone number

+1.8666421232

Address

377 Dalhousie St. Suite 201 Ottawa ON K1N9N8 CA
Name

Leon's Furniture Limited
Phone number

+1.8666207111

Address

Port St. Charles Unit 308 St. Peter ON BB26013 BB
Name

Privacy Hero Inc

Company

Privacy Hero Inc.
Phone number

+1.8664973235

Address

Neptune Court, Suite 204, Allegro Rd Grace Bay Providenciales TKCA 1ZZ TC
About privacyhero.company
a host domain for HQI0YM4P0D2R7SBG@privacyhero.company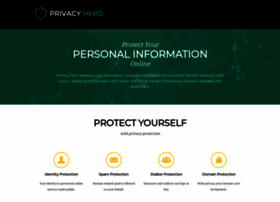 Privacy Hero replaces your personal or corporate information in the public WHOIS directory with ours — keeping your private information out of the hands of fraudsters, domain hijackers and spammers.
Name

Leons Furniture Ltd.

Phone number

+1.8666421232

Address

377 Dalhousie St. Suite 201 Ottawa ON K1N9N8 CA
Close map
Name

Leon's Furniture Limited

Phone number

+1.8666207111

Address

Port St. Charles Unit 308 St. Peter ON BB26013 BB
Close map
Name

Privacy Hero Inc

Company

Privacy Hero Inc.

Phone number

+1.8664973235

Address

Neptune Court, Suite 204, Allegro Rd Grace Bay Providenciales TKCA 1ZZ TC
Close map